We Help You Learn and Enjoy Cooking
Learn to cook some exciting and delicious recipes from around the world. We at SPICEZ organize cooking classes by experts, professionals, and locals cooks. You can learn from them the tips and tricks to cook great food.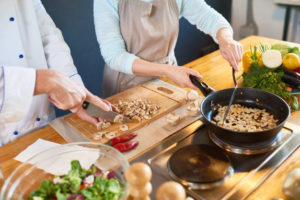 Welcome to the Fun-Filled and Exciting World of Cooking
Immersive cooking classes and interactive learning inspired by expert and passionate chefs and their intense passion for cooking and the desire to share their knowledge.
Our class is a space for anyone who wants to learn cooking to explore flavors, gain knowledge, and replenish their cooking skills.
Knowledge Is Gained by Asking Questions
So we encourage our students to ask questions and doubts related to the recipes, during the class as well as post-class. Call or messages, when trying out at home.
The overall feel-good feeling, friendly atmosphere, and the taste of food make our students come to our classes again and again for trying out different cuisines.
Take a look at our kitchen.
Our kitchen is custom-designed to create an ideal ambiance for learning and discovering the art of cooking. We believe in offering a cheerful classroom, our space is equipped with the finest kitchen appliances. We have ample space to accommodate up to 6 participants in a hands-on class and up to 12 in an interactive demo session.
Our facilitates allows participants to engage in one-to-one interactions with the chef and share culinary notes with each other. Each class is accompanied by the required ingredients, easy-to-follow recipe sheets, and an opportunity to bond with fellow participants over light refreshments.
Our Cooking Classes Are Coming Soon!
Please Visit Again